The 2023 Global Health Catalyst (GHC) Summit taking place on May 04-06, 2023, in the Irvine Auditorium, at the University of Pennsylvania, Philadelphia, USA, is a key objective of the yearly summit is to catalyze and strengthen high impact international collaborations for global health and development, with a focus on cancer in a win- win approach to address healthcare disparities in the USA and on the global stage.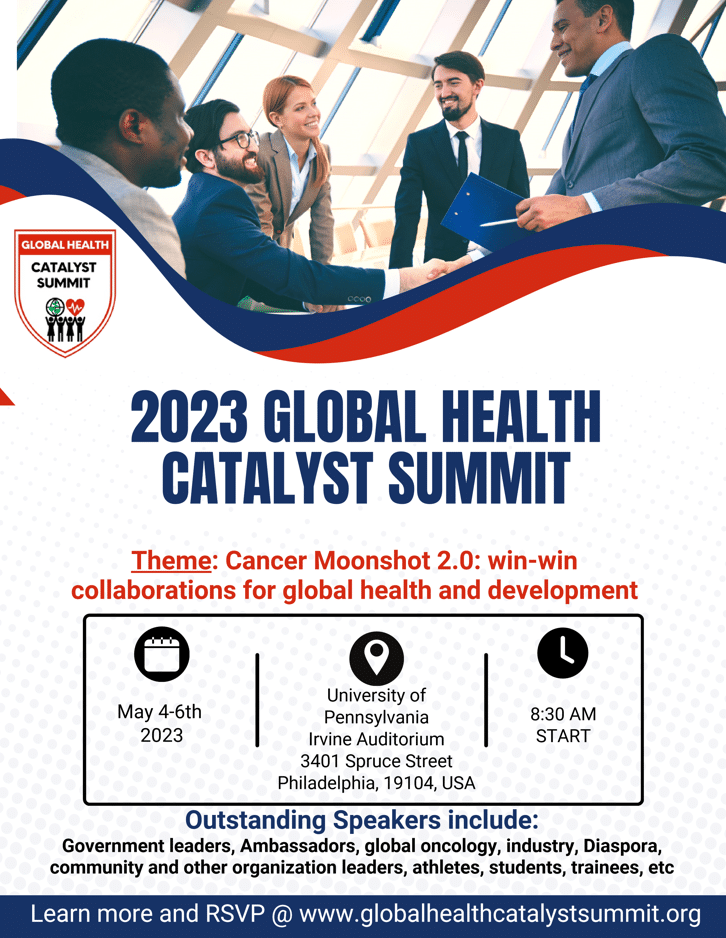 Since 2015, the summits have been organized at Harvard, Johns Hopkins, University of Pennsylvania and other world-leading institutions resulting in numerous productive collaborations benefiting the USA, and other countries. Outcomes include, establishing cancer centers in Africa, telehealth turning brain drain into brain circulation, training of thousands of health professionals to support the healthcare system, and fecund research collaborations and innovations to increase access to healthcare. One policy outcome of the summit has been a Lancet Oncology Commission for sub-Saharan Africa, which was launched with Ghana's First Lady H.E. Rebecca Akufo-Addo in May 2022 in Accra Ghana highlighting a growing cancer emergency in Africa. This served as a reference for new actions that were announced by the White House during the U.S.-Africa Leaders Summit, aimed at Reducing the Cancer Burden in Africa. Building on these outcomes, this year, the theme of the summit will be "Cancer Moonshot 2.0: win-win collaborations to advance global health and development" with a focus on mobilizing further actions to advance USA- Africa collaborations, and establish a USA-Africa Cancer Center of Excellence in Ghana
Overall, participants at the summit will include government leaders, Ambassadors, First Ladies, hundreds of industry and diaspora organizations, celebrity health advocates, young global health catalysts (e.g. students, residents, and others), representatives from the World Health Organization, community based organizations, and other stakeholders, all focused on win-win collaborations to extend the cancer moonshot globally, save millions of lives, and advance development.