She was only 13 years in Primary 5 when she was diagnosed of the dreaded breasts cancer in faraway Kintampo, in the Bono East Region. Without the needed financial muscle, young Raina Komiri, now 16 and in Junior High School 1, thought her childhood dream of becoming a fashion designer had been dashed.
Her father, Moro Latiff, a local mechanic resorted to herbal solutions but it only aggravated little Raina's condition. However, luck smiled on the poor girl when a Good Samaritan who had heard of her plight pointed her to the solution she so needed.
Recommendation
The Samaritan recommended the Peace and Love Hospital in Kumasi to the family where a number of women with such conditions had had care. Known for her benevolence, the CEO of the facility, Dr. (Mrs.) Beatrice Wiafe Addai, who also doubles as the president of Breast Care International, decided to offer her services on gratis for the little girl to pursue her dream career.
Subsequently, the lumps in her two breasts were successfully removed, however both the CEO of the health facility and the family have been struggling to raise the needed funds for the reconstruction of both breasts.
Then on Thursday, May 12, 2022, by either coincidence or divinely intervention, a USA-based businessman, Mr. Eric Broyles, who is working with an inventor of a new technology for the treatment of cancer, heard of the little girl's story while in Kumasi and decided to help. Mr. Broyles, owner of a biotech company in the USA had joined a team to Ghana to launch the Lancet Oncology Commission report for cancers in Sub Saharan Africa, when he met the little girl during an interaction with breast cancer survivors.
Touched by her story, Broyles doled out $6,000.00 USD to help in the reconstruction of Raina's breasts. Mr. Broyles is to work hand-in-hand with Dr. Wiafe Addai to look for the best reconstruction centre around the world and experts that can handle the situation to restore Raina's confidence and make her a "complete woman."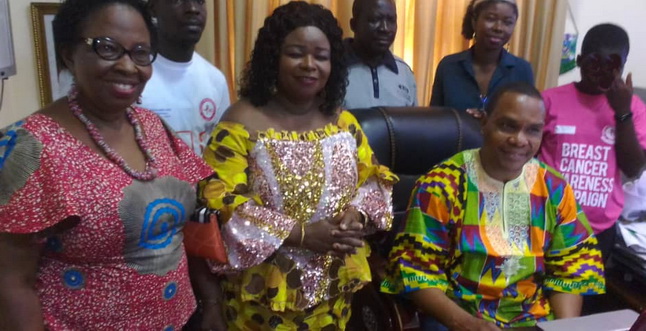 Faith
"I'm a Christian and this is what my faith and belief in Jesus Christ teaches me to do," he said. The total amount for the reconstruction is not known yet but Mr. Broyles, also a trained lawyer said he was ready to offer extra support. Beaming with smiles, the young lad jumped, hugged her father in an emotional scene as tears rolled down her cheeks.