The Member of Parliament (MP) for Kwadaso, Dr Kingsley Nyarko has profusely commended President of Breast Care International (BCI), Dr Beatrice Wiafe Addai for waging a formidable fight against breast cancer disease in the country.
Making a statement in Parliament on Psychological interventions for persons living with breast cancer to mark the World Breast Cancer Awareness Month, Dr Nyarko noted that the contributions of BCI through Dr Wiafe Addai has ensured that the population become aware of breast cancer.
The Kwadaso MP said the sensitization and education efforts of BCI had greatly helped to create the awareness of breast cancer in Ghana over the years.
SUPPORT:
Dr. Nyarko sounding passionate stressed that there is the need for the State to consciously provide support to the BCI President and cancer surgeon to intensify sensitization across the country particularly hinterlands.
He posited that the work of Dr Wiafe Addai deserved every support the State could give so as to get the citizens to become aware of the breast cancer disease.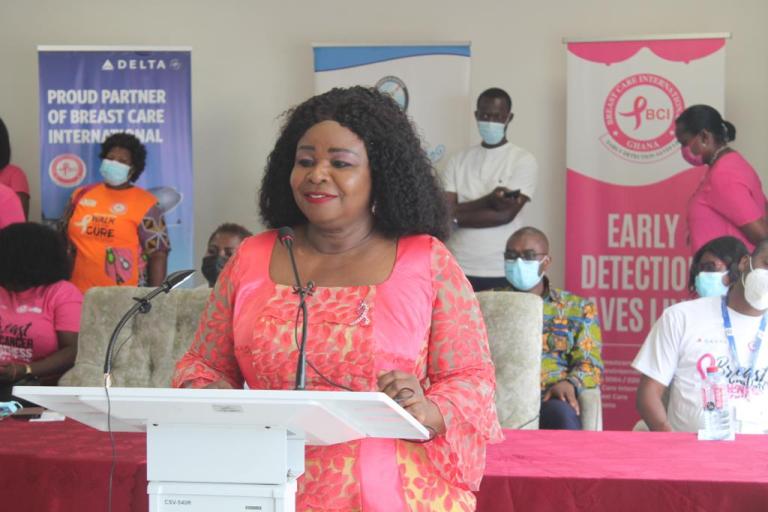 According to the Kwadaso MP, it took the intervention of BCI, a non-governmental organization to drum home the education that breast cancer was treatable and curable. He therefore argued that sponsorship should be offered to BCI and to Dr Wiafe Addai to carry out a more rigorous and vigorous education for the population on treatment remedies as well as preventive measures against breast cancer.
The Kwadaso legislator said breast cancer was a destructive disease which should be tackled with the seriousness it deserved. He noted that the disease is the most prevalent in women worldwide and the commonest cancer overall with new cases of 2, 216, 419(11%) and mortality rate of 684, 996 (6.9%) behind lung cancer.
DANGERS:
Dr. Nyarko intimated that cancer of the breast was mainly known to be a disease of elderly women but said the disease has proven to occur in younger females of less than 30 years of African descent including Ghana.
He therefore called for State support for BCI to ensure more awareness is created on breast cancer nationwide.